Brethren, those of us who were in Tours yesterday will never forget the it. What a day ! What an experience ! What joy and happiness to return to real masoning after 30 bloody long months of crisis.
Like Levallois Perret in December and the Paris Docks in February, up at a totally un-Christian hour for a bloody long drive. But this time it was more than worth it. Who cares about the driving rain, the wearying effect of the windscreen wipers, who cares about 7 hours behind the wheel in a day, who cares about a lot of insignificant details ! One important detail : no riot police anywhere, no Gorillas Incorporated at the door.
A totally different atmosphere. The same faces as 5 and 3 months ago. But this time there were large smiles. We all knew the page had turned. The crisis is behind us. A new era began yesterday. The road before us is still long and there will be numerous surprises at every bend, not all of them good ones, but yesterday was a fantastic start to a new journey.
The De Vinci Conference Centre auditorium can seat 1500 and there wasn't a vacant seat in the house. 1500 Brethren from all over France, including the Carribean, Réunion Island in the Indian Ocean, observers from a small number of international Grand Lodges (there will be many more over the coming months), and a number of English Brethren, formerly of GLNF Lodges, now GL-AMF, their French not too hot, but the Fraternity fantastic.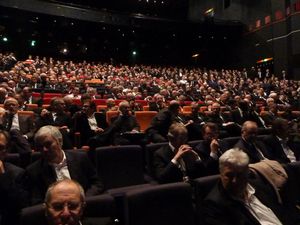 A very tight programme, 8.30 a.m. start for the A&ASR Rite House Convent: Approval of the Statutes, election of our Assistant Grand Master, Charles Tordjman and his 2 deputies
Then the GL-AMF Association General Assembly. Approval of the Statutes, Budget voted, President-grand Master, Alain Juillet elected.
I forgot the standing ovation the first time Dominique Moreau used the expression "Grande Loge Maçonnique Française".
Lunch, juggling briefcase, food and glass of wine, chatting with the delegate from the GL of Greece whose sister lives in Melbourne, my home town. "When you come to Athens, I'll look after you." "Efharisto !" I recruit an English Brother for my Mother Lodge, David d'Angers. I meet up with my sponsor of 12 years ago and a Brother I sponsored 10 years ago. Obviously a photo ! All over the conference centre similar encounters were going on. Joy in our hearts !
The tight programme continues. A consecration ceremony we'll never forget. Simplicity and dignity. When I entered Masonry 12 years ago I would never have thought that I would participate in the consecration ceremony of a Grand Lodge in France, a once in a lifetime experience.
Highlights, a totally subjective selection :
3 Consecrating Lodges, "L'Anglaise 204", the oldest Lodge in France, consecrated in 1732, just 15 years after 4 Lodges met in the Goose & griddle in London to form the first ever Grand Lodge, "La Persévérance Ecossaise", consecrated in 1863, and "Théba" founded in 1901.
18 Founding Lodges representing more than 250 petitioning Lodges for the creation of the GL-AMF.
More than 3000 Brethren already enrolled in the GL-AMF and registered in its computer and more than that number of envelopes still unopened on the dining room table of the GL-AMF Grand Secretary (Thank you, Michel, for 30 months of dedication, all so often overlooked !)
The long white hair of the Worshipful Master of "L'Anglaise 204", virtually symbolising the rich history of that Lodge;
The Assistant Grand Masters of the 6 Rites of the GL-AMF, Ancient and Accepted Scottish, French, Rectified Scottish, York, Emulation and standard Scottish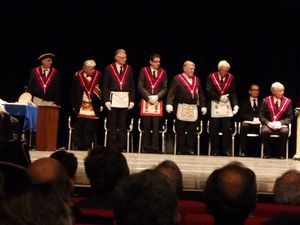 A Master of Ceremonies, Marc Boyeau, who controlled the ceremony from go to whoa with a military precision (Thanks, Marc, a great job !)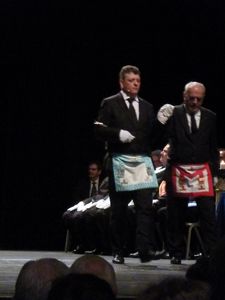 Thierry Perrin, former Provincial Grand Master of Val de Loire Province, the 2nd to rise after Claude Seiler on December 4th, 2009 and qstruck off the next day. Yesterday he was the Consecrating Installing Officer. As ever, totally from memory in the finest tradition of the Emulation Rite. Thanks Thierry, no-one does it better than you !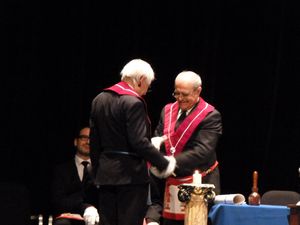 Not a blue apron to be seen. Just the aprons of the 3 Rites and a simple red collar indicating Grand Officer.
The speech by our new Grand Master, Alain Juillet, a masterpiece of determination to move on, to put the crisis behind us and to return to the fundamental values of Regular and Traditional Freemasonry. A recognition of our desire to take our rightful place in the chain of Recognised international Freemasonry. And at the same time a determination to not forget the crisis, but to learn from it and to rebuild our Temple on the foundations of the experience. A translation of the speech will be available within the next 48 hours.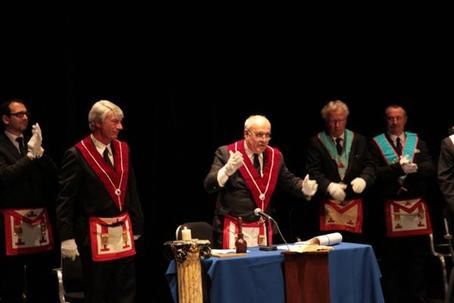 1500 Brethren standing to sing the "Marseillaise".
Coming out of the carpark opposite the convention centre in the morning, rain pouring down, red light blocking the pedestrians. A Brother clad in a raincoat, carrying a briefcase stops beside me. It's Alain Juillet. I've done articles and translations for him over the past months, we've corresponded, but we've never met. I introduce myself. A firm grasp of my hand, a spontaneous smile, "We've got work to do together on international Recognition." The light changes and we cross. No bodyguards, no armoured car with smoked glass. Times have changed !
A large number of SMS and messages on my mobile phone from Brethren who couldn't be in Tours, all wanting to have details of how it was.
Brethren, it was Rudyard Kipling who put it best :
"If you can bear to hear the truth you've spoken
Twisted by knaves to make a trap for fools,
Or watch the things you gave your life to, broken,
And stoop and build 'em up with worn-out tools: …
… you'll be a Man, my son!"