An invitation addressed to a young "legal bear" !!!
An invitation addressed to a young"legal bear" !!!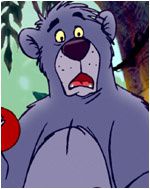 Last Thursday César at the Bar de la Marine reported in an article « Dans le sud nous sommes les plus forts » on Myosotis PACA how our Brother Georges Musso has become world champion all weights, all categories of GLNF suspensions link. The GLNF in-house legal eagle, collector of any number of gilded blue National and Provincial aprons, Jean-Michel Baloup, hereinafter referred to as "Balloo the legal bear", wearing whichever of the numerous GLNF hats he pretends to be allowed to wear has summonsed Georges before the star chamber, otherwise called the Council of Discipline.
Georges, not having forgotten all the lessons of etiquette and good conduct his mother taught him, immediately replied. His reply is to be found on Myosotis PACA, "Invitation pour le jeune Jean-Michel Baloup" link.
"Dear Jean-Michel,
Imagine my surprise in discovering the urgent and firm attention you have given to my regard, surprised that a big shot and advisor to the GLNF and, if that is the case, someone close to the Most Worthy Brother François Stifani, has studied my character in order to "investigate" – the word in no doubt out of proportion, ill-used and surpasses your thoughts – the facts of which I am reproached, in other words the intimate confessions made to people close to me, Brothers and, above all, friends.
Nevertheless and in this sense, it would be a real pleasure for me, a "particularly ancient member" to meet a young Brother with such a rapid and astonishing career as yours so we could talk about what unites us : esoterism, the Rites and masonry in general and I will be delighted to hear your opinion and your views on the current situation which is, in the memory of the Brethren, without precedent. I am sure that our ideas are not and cannot be as far apart as certain suggest.
As for discussing the facts and acts that are not only mine, but that of a vast majority of the Brethren in France today (and even the rest of the Masonic world, it seems) and for which I am reproached, I feel it is pointless to put them on the agenda, for that debate would only cause endless, animated debate, we would waste our time, each sticking to his own position.
As well, my dear Brother, certainly I would be delighted to meet the ambitious and verbose brother that you surely are, but under no circumstances will I accept to meet you in your official capacity as Provincial Sword Bearer (nor even national) for you have no doubt noted that our spiritual guide, in a moment of astonishing lucidity, has resigned as president of the GLNF and therefore, as Grand Master. His clumsy explanations which try to separate grotesquely the two functions will not change the facts. He only impresses unseasoned young Brothers with little experience of masonic rules or Brethren seduced by pompous and misleading speeches.
Consequently, today there no longer exists a National or Provincial College of Officers !!!
O tempora, O mores !!! Our Obedience is even managed by a woman !!!.... Now we've seen everything !!! And whose fault is that ???
I'll leave you to reflect upon these obliged and barely honourable inanities about the history of our association…
My masonic, family and above all, professional activities take up a large part of my time and energy. Unfortunately I cannot be present on Friday 12th as you so cleverly and kindly proposed, but tempted by this interview that no doubt can only be enriching, I propose that we meet in Nice in a tearoom close to where I live (I'll send you the address) where a comfortable and discreet room will be propitious to our desultory verbal exchanges (it's only an image, I promise !!!)
As to dates, for the same reasons I explained earlier, I can suggest :
Friday April 1st at 9 p.m.
Sunday May 29th at 7 p.m.
Saturday June 25th at 9 a.m. or
Thursday July 14th at 11 a.m. … the choice is wide to accomadate to your numerous activities.
Or ….much simpler, I'm really stupid !! We could meet in Lodge where, in brotherhood, on the North or the South, we could exchange our differing but quality views.
In anticipation of your friendly reply, I offer you, my dear brother, my most respectful and fraternal greetings.
Georges MUSSO N° 29237 "
LML in English is taking bets on Georges' 4th suspension notice !!!