Wagram : a scandal confirmed by the figures
Over the past few days a number of blogs have questioned whether Wagram was a profitable operation or not for the GLNF. In his blog "La Lumière", l'Express journalist, François Koch, lifts the veil and gives us the first answers.link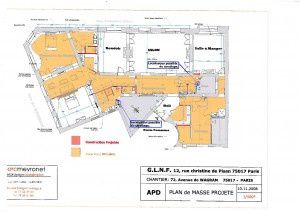 The luxury apartment is at N° 72 Avenue de Wagram in Paris' swish 17th arrondissement, just a stone's throw from the Arc de Triomphe. The purchase on September 22nd, 2008 was justified on the spurious grounds that it was necessary to receive and entertain the VIPs invited by the publicity seeking François Stifani. The critics replied that the GLNF headquarters at Pisan were more than suitable for such events.
Following the purchase extensive works were undertaken, including the installation of a kitchen that leaves most 3 star chefs drooling. Now, less than 3 years later (June 7th, 2011) the apartment has been sold. But it was never used, not even once !
The figures we have confirm that the GLNF lost money on the operation. The figures we don't have confirm the GLNF lost a fortune, all to satisfy the vanity of Ephesse.

- purchase price 1 900 000
- honoraria for building assessment (asbestos, lead, etc) ?
- lawyers and other professional honoraria ?
- notaries honoraria, stamp duty, etc ?
- loan application fees ?
- interest on the loan ?
- penalties for early payout on the loan ?
- mortgage fees ?
- fees for raising the mortgage ?
- renovation, including the kitchen 531 000
- gas, electricity, water, heating, etc. ?
- building management and body corporate charges ?
- cleaning and regular maintenance ?
- taxe d'habitation (payable for each January 1st occupied) ?
- taxe foncière ?
- publicity costs linked to the sale ?
- honoraria pour Miss Monique (that is part of her job) ?
- and no doubt I've forgotten a few
- NET sale price 2 565 000
Total ......?????????????????????????????
The difference between the purchase price plus renovations and the NET sale price is only 134 000 €. Notaries fees and stamp duty generally represent 6.8% of the purchase price (129 200 €). Which leaves us just 4 800 € before Ephesse 1st, financial wizard, tax law specialist, legal advisor to the various Foellner business structures, etc., plunges us into the RED !!! How far into the red I've no way of knowing. A little birdy suggested a figure of 700 000 €. But at my advanced age I gave up hanging around birds years ago !
One last question. If Wagram was sold on June 7th, 2001, how come it has taken more than 5 months before the Brethren found out and even then, only second hand from a journalist who isn't even a member of the GLNF, nor a Freemason as far as we know ?